The Data Eater is the dominant antagonist of Twipsy, who tends to chase messengers for data packets, in which he sees as delicious snacks.
Description
Edit
He is a large, armoured beetle-like creature, with short bladed arms, a black visor with orange eyes and a long snout similar to that of an anteater's. [1]
Appearances
Edit
While the Data Eater appears in numerous episodes, there are some that describe his struggles as well as his near triumphs.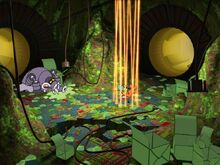 His first appearance is in How it Happened, in which he is introduced as the data-hungry predator, chasing cybermessengers and robbing them of their data packages.
In Albert the Superhero, in which he comes down with an upset stomach from consuming bad data
In Relic Wanted, in which he finally snatches Albert's fossil from Twipsy, and attempts to consume it himself - he suffers from a belly ache later.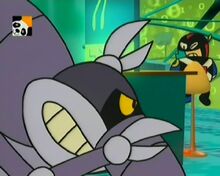 Other Languages
Edit
| Language | Pronounciation | Translation | |
| --- | --- | --- | --- |
| Korean | 사이버 괴물 | Cyber Monster | |
| German | Datenfresser | Dataeater | |
| | | | |
References
Edit
↑ Hannover-Postkarten. 1999. Data Eater - EXPO 2000 Postcard [ONLINE]. Available at: http://file2.npage.de/012803/52/bilder/twipsy_-_datenfresser.jpg [Accessed 27 March 15].
Ad blocker interference detected!
Wikia is a free-to-use site that makes money from advertising. We have a modified experience for viewers using ad blockers

Wikia is not accessible if you've made further modifications. Remove the custom ad blocker rule(s) and the page will load as expected.